Frequently Asked Questions
Unlocking Knowledge, Empowering Success: Your FAQs Answered!
What is the User Group Manager role at CORE University?
The User Group Manager role at CORE University is a special role that allows users to manage and oversee specific user groups within the online learning platform. User Group Managers have administrative privileges within their assigned groups and can perform tasks such as enrolling users, tracking progress, and managing group-specific content.
The available capabilities for a manager are:
Manage users: create a use, use bulk actions, perform basic and advanced user actions, & delete a user
View users
View user groups and group members
View user analytics
Export user analytics
Manage scheduled reports
View activity history
View gradebook
View certifications
View the review center
How can I request to become User Group Manager for my Company?
To request a User Group Manager role, please follow these steps:
Submit a Request Form by clicking this link
Fill out the form with your name, email address, and a brief message expressing your interest in becoming a User Group Manager.
Submit the form.
What information should I include in my request message?
In your request message, please include the following information:
Your full name
Your email address
A brief explanation of why you are interested in the User Group Manager role
Size of your team
What happens after my request is approved?
If your User Group Manager role request is approved, you will receive a notification via email. The email will contain instructions on how to access and utilize your User Group Manager privileges. You will be granted the necessary permissions to manage your assigned user group(s) and access the relevant administrative tools.
What should I do if my User Group Manager role request is denied?
If your User Group Manager role request is denied, you will also receive a notification via email. The email may include the reasons for the denial. If you believe there has been a misunderstanding or you would like to discuss the decision further, you can reply to the email and seek clarification or provide additional information.
Can I request multiple groups as a User Group Manager?
Yes, it is possible to request multiple User Groups if you have the qualifications and capacity to manage multiple user groups. In your request message, please indicate the specific user groups you are interested in managing and provide reasons for your request.
How do I Manage my Group(s)?
1.
Go to
Dashboard → Manage User Groups or Users→ Manage group members.
In the dashboard, you can see the name of the group, when it was created and updated, the included courses (if there are any), members, group managers, and the available actions.
2. Hover over the Actions tab and click on the Manage group members.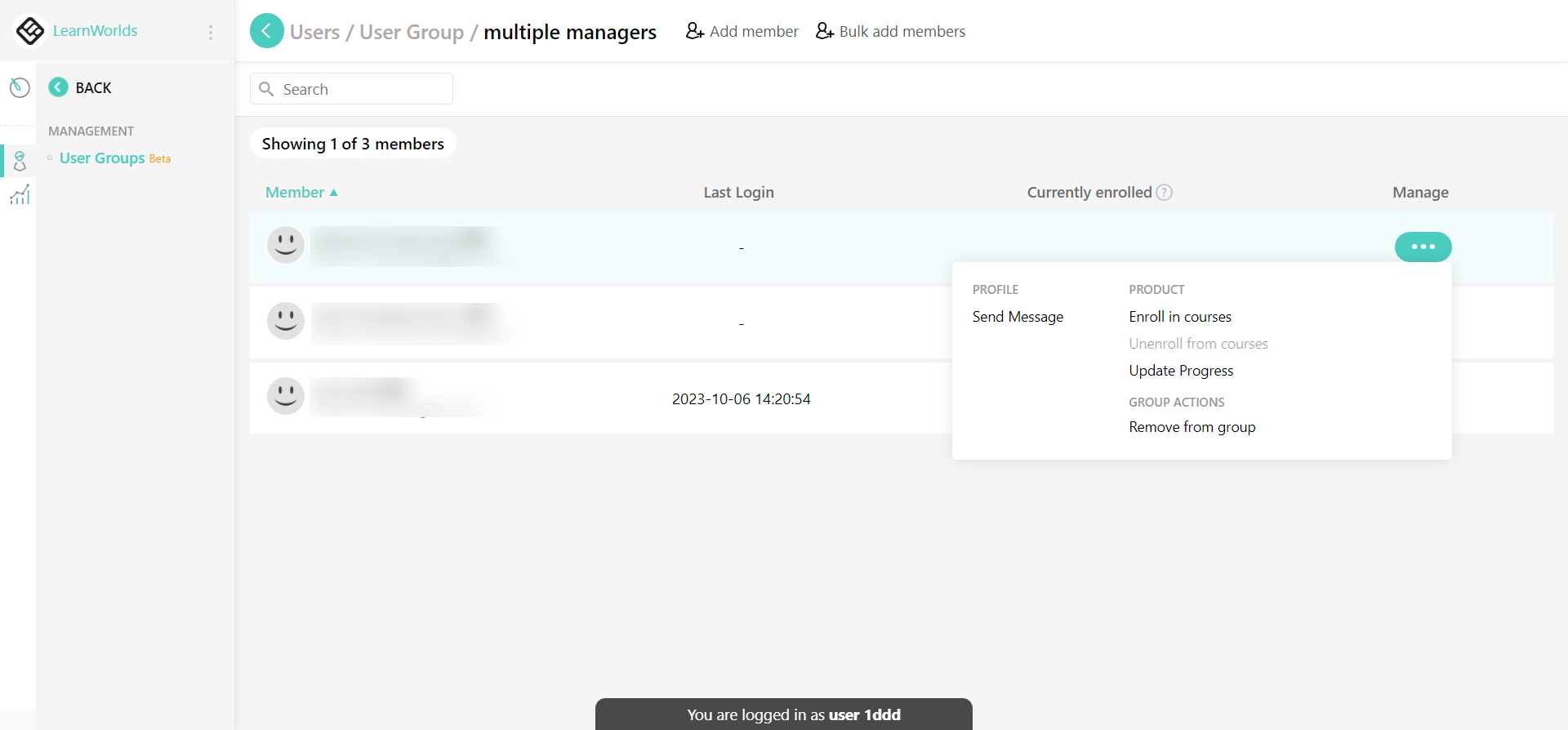 There you can add and bulk add and/or enroll users in the group (see below), and you can track the:
Users
Their Last Login
Courses they are currently enrolled in
Manage tab
Can I transfer my User Group Manager role to another user?
User Group Manager roles are typically assigned to individual users based on their qualifications and responsibilities. If you wish to transfer your User Group Manager role to another user, please reach out to the platform administrators through the "Contact Us" page and explain the reason for the transfer. They will guide you through the necessary steps and process the transfer if appropriate.
How do I Add and/or Enroll Users?
Hover over the Actions tab and click on the Users option. There you can:
Add Member
You can add a single user to the User Group, provide the user's details and an invitation email will be sent, asking the user to set a password for accessing CORE University.


Bulk Add Members
Click on Bulk add members, download the Excel template (see below), and fill in the user details in Excel to add users to this specific User Group.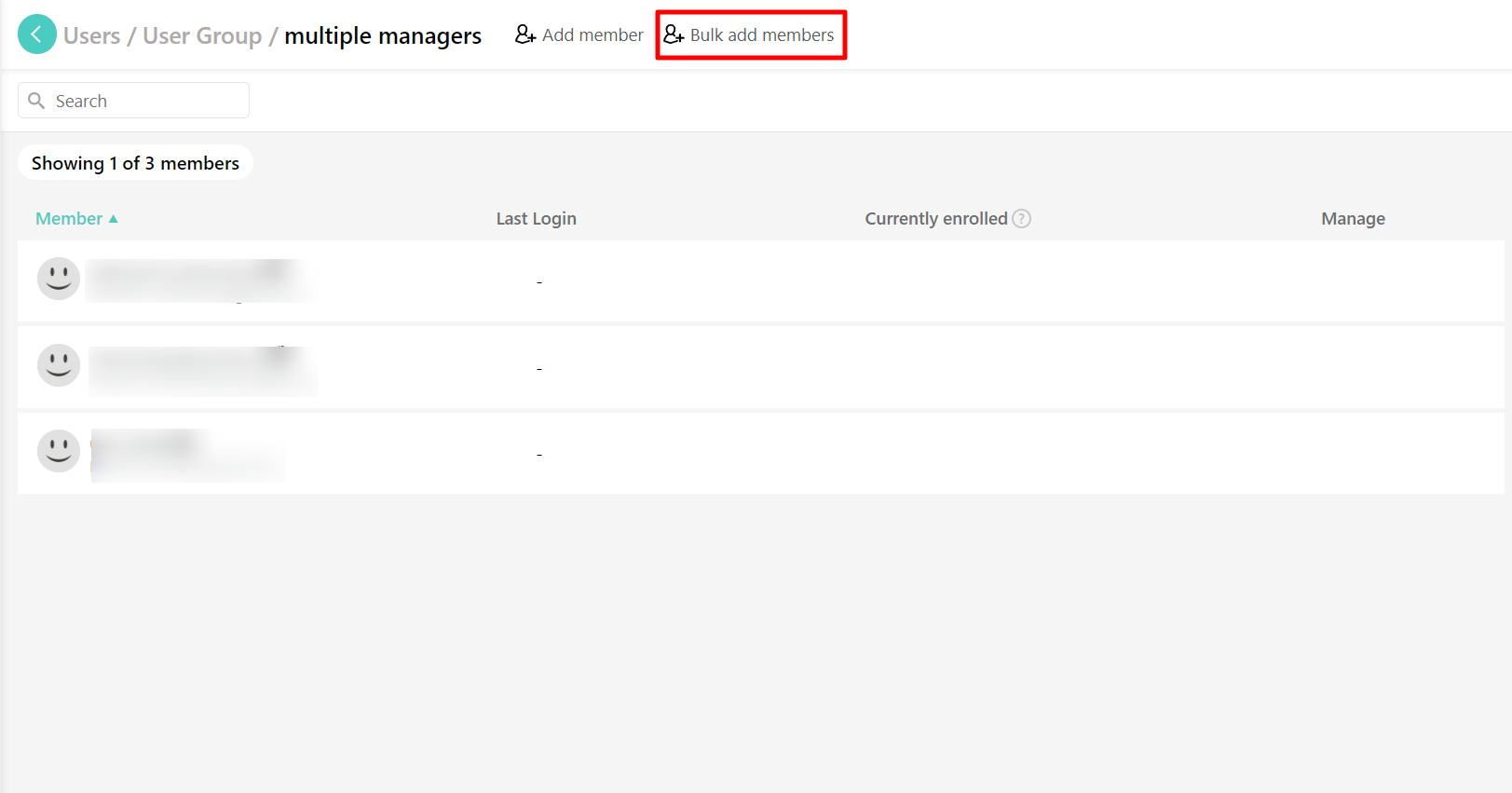 The file you will upload shouldn't be differentiated from the Excel template. Here are some tips to follow:
a. Download the sample file (Excel template).

b. Use this template and add the data in the respective default fields. Do not alter the fields or add additional ones. A username and email are required (for "username," you can add a name and surname).

c. Clear Formatting: In the case of copy-paste, keep in mind to copy the cells without any formatting, and since you will be adding emails, make sure they are not added as links.

Ctrl+Shift+V for Windows or Command+Shift+V for Mac would help to clear formatting when copy-pasting.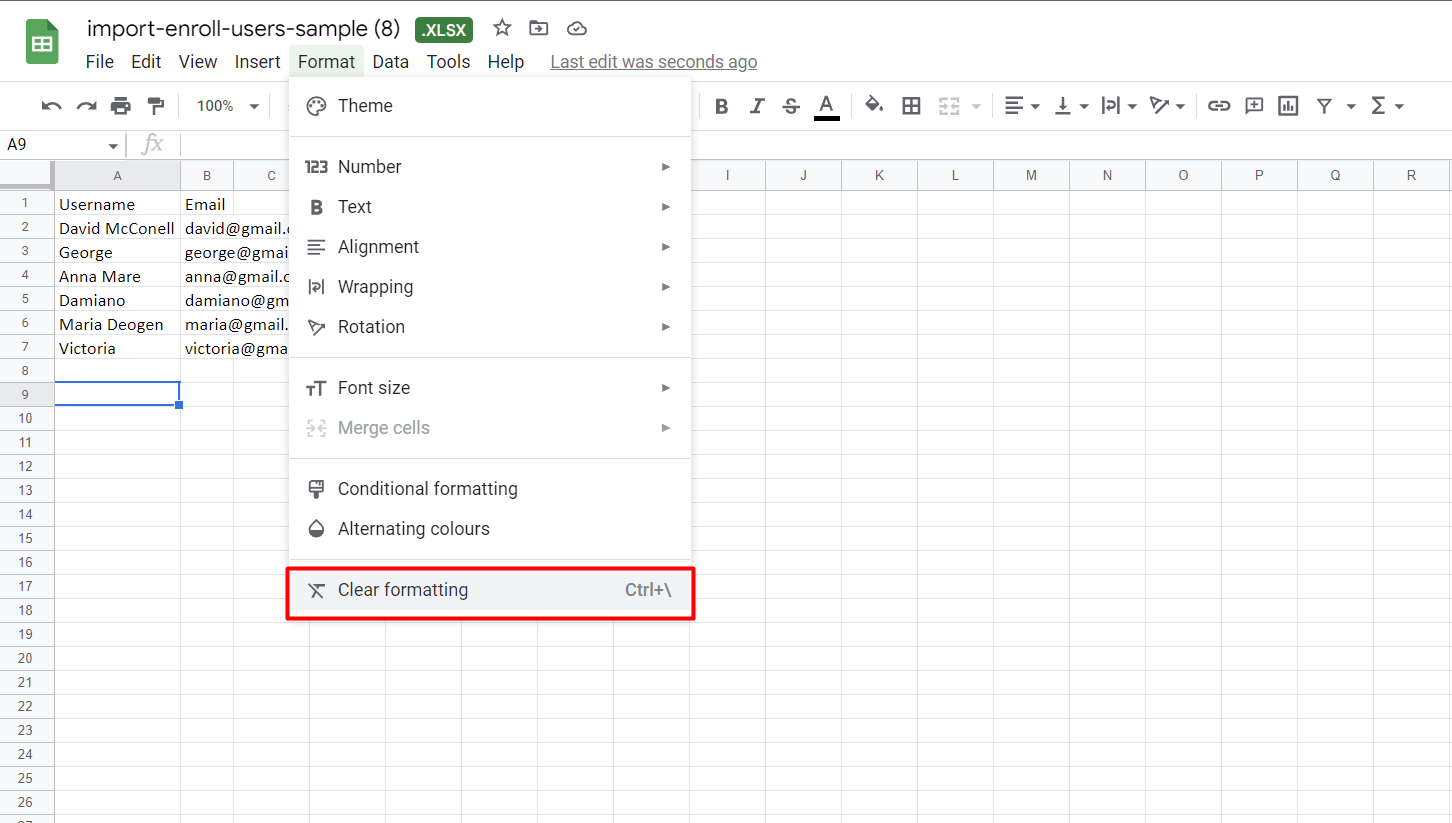 When the Excel file is ready, upload it in the respective field.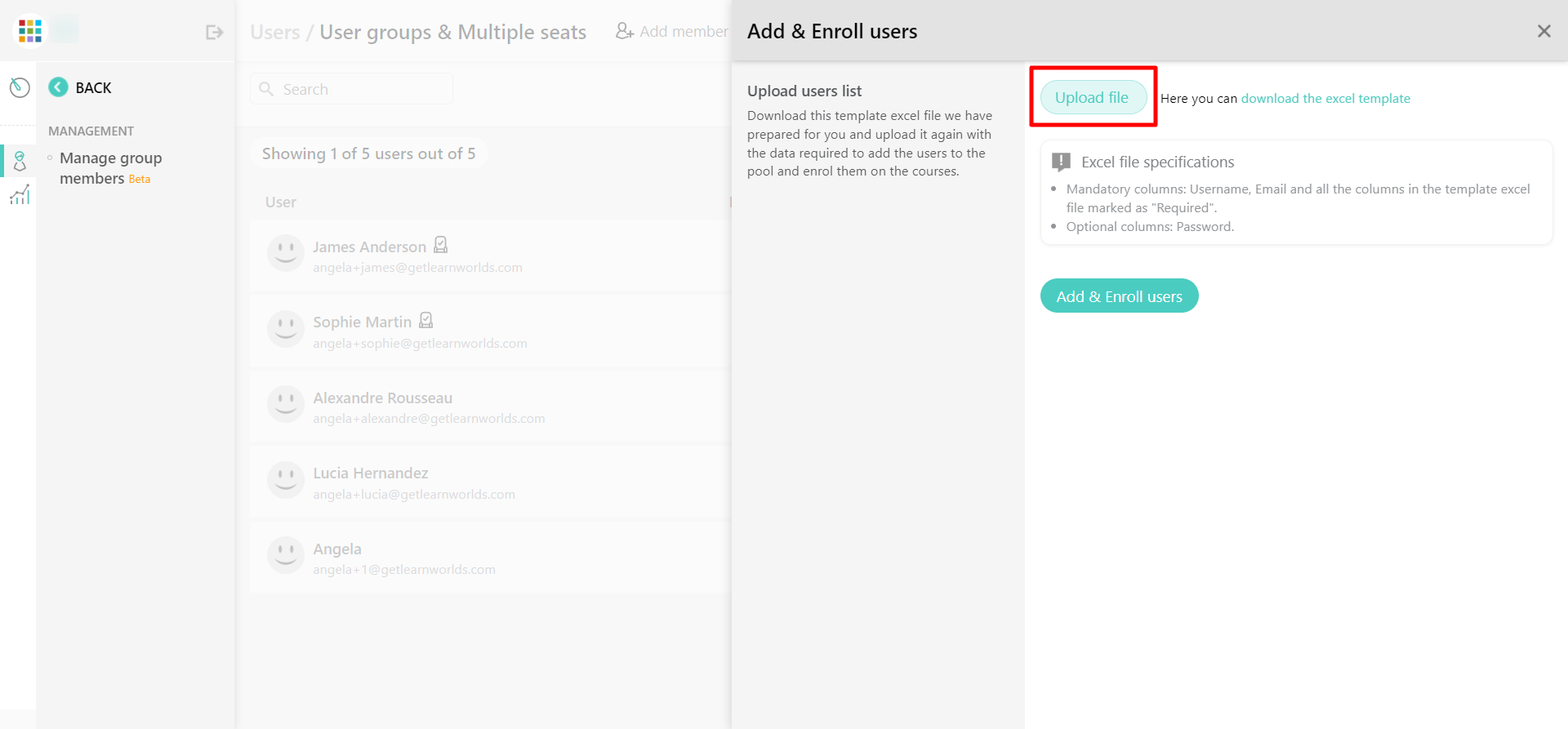 Meanwhile, you can track the progress of the bulk action if you go to
Reports Center → User acti

o
n log.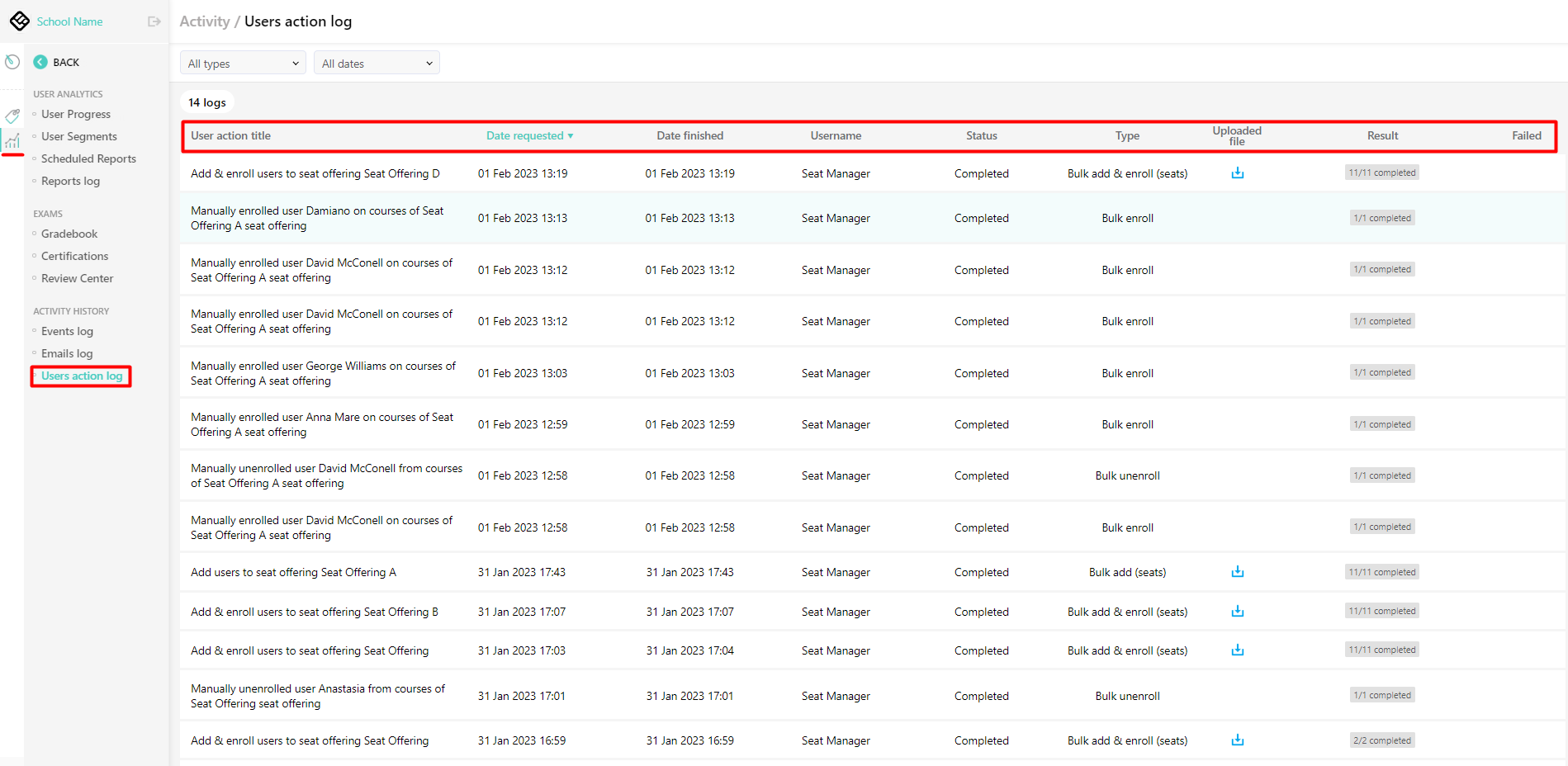 I enrolled the user(s) into a course but they are unable to access it?
If you have enrolled user(s) into a course but they are unable to access it, there could be a few possible reasons for this issue. It's important to ensure a smooth user experience for all courses hosted here at CORE University. Below are some suggestions to address the problem:
Verify Course Access: Double-check that the users have been correctly enrolled in the course. Review the enrollment process and confirm that the users are listed as active participants or members of the course.


Free Course Enrollment: If the course in question is FREE, make sure that there are no payment requirements or barriers preventing access. Free courses should be accessible to enrolled users without any additional charges.


Payment for Paid Courses: If the course is a paid course, ensure that the enrolled users are aware of the payment requirement. Communicate clearly that they need to complete the payment process to gain access to the course materials. Provide instructions or a payment link to facilitate the payment process.


Bulk Enrollment Considerations: When bulk enrolling users into a course, it is important to communicate any payment obligations for paid courses explicitly. Notify the users beforehand about any associated costs and provide them with the necessary information to complete the payment process.
How do I use my Report Center?
In User Analytics, as a manager, you have access to the:
User Progress & User Segments:

Analytic engines that allow you to interpret and analyze data about the group's users' progress.
Scheduled Reports: A useful tool where you can create, view, edit, delete, or disable scheduled reports.
Reports Log: This offers an overview of the scheduled reports and allows you to filter their reports by type and date and view the "In progress" and "Upcoming" reports.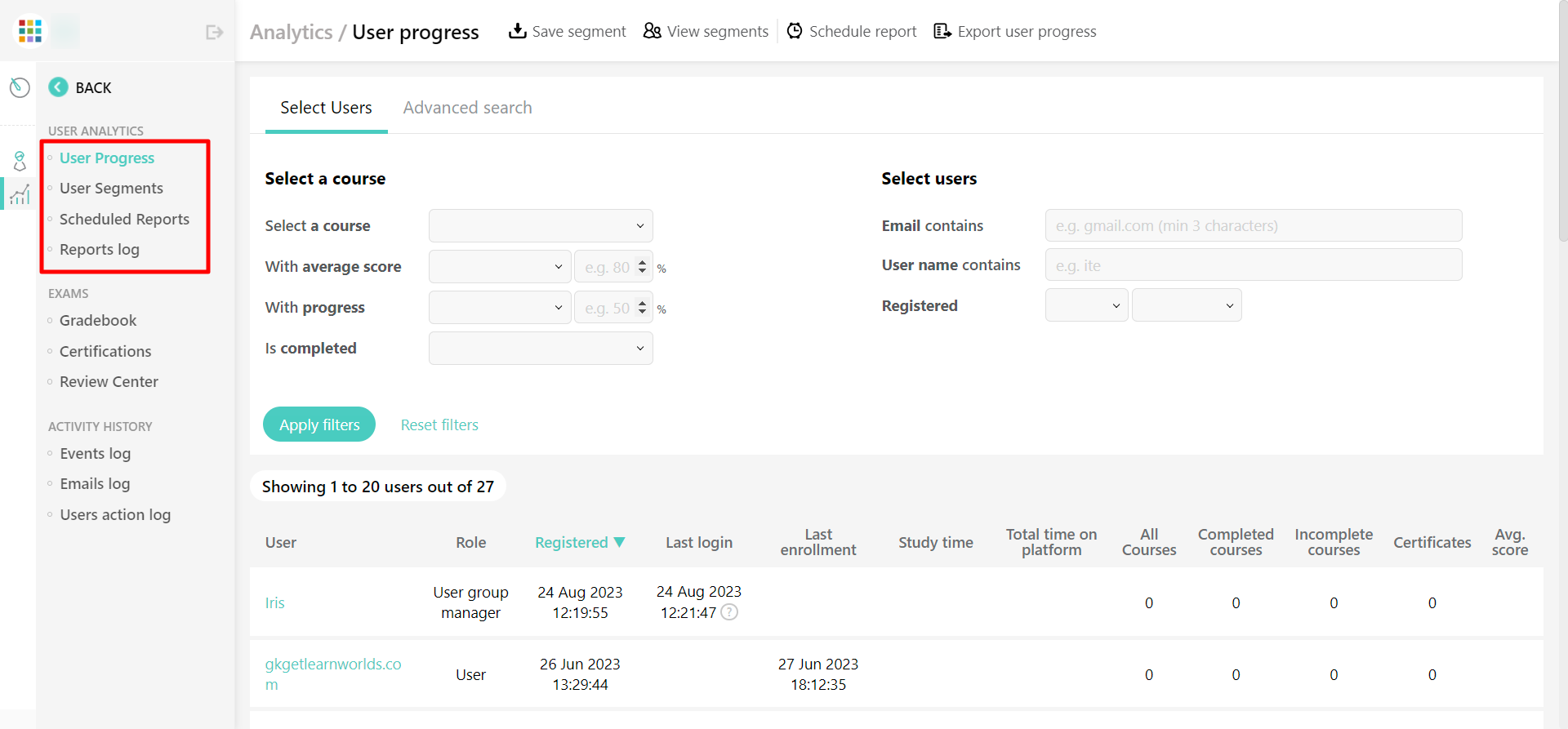 Regarding the Exams, as a manager, you have access to:
Gradebook:

Helps you keep an online record of their users' grades in exams, assignments, and certifications. You can view and export assessment results.


Certifications: The dashboard where you can find all the details related to user-issued certificates.


Review Center: The tool where you will see users' responses pending for grading and/or feedback.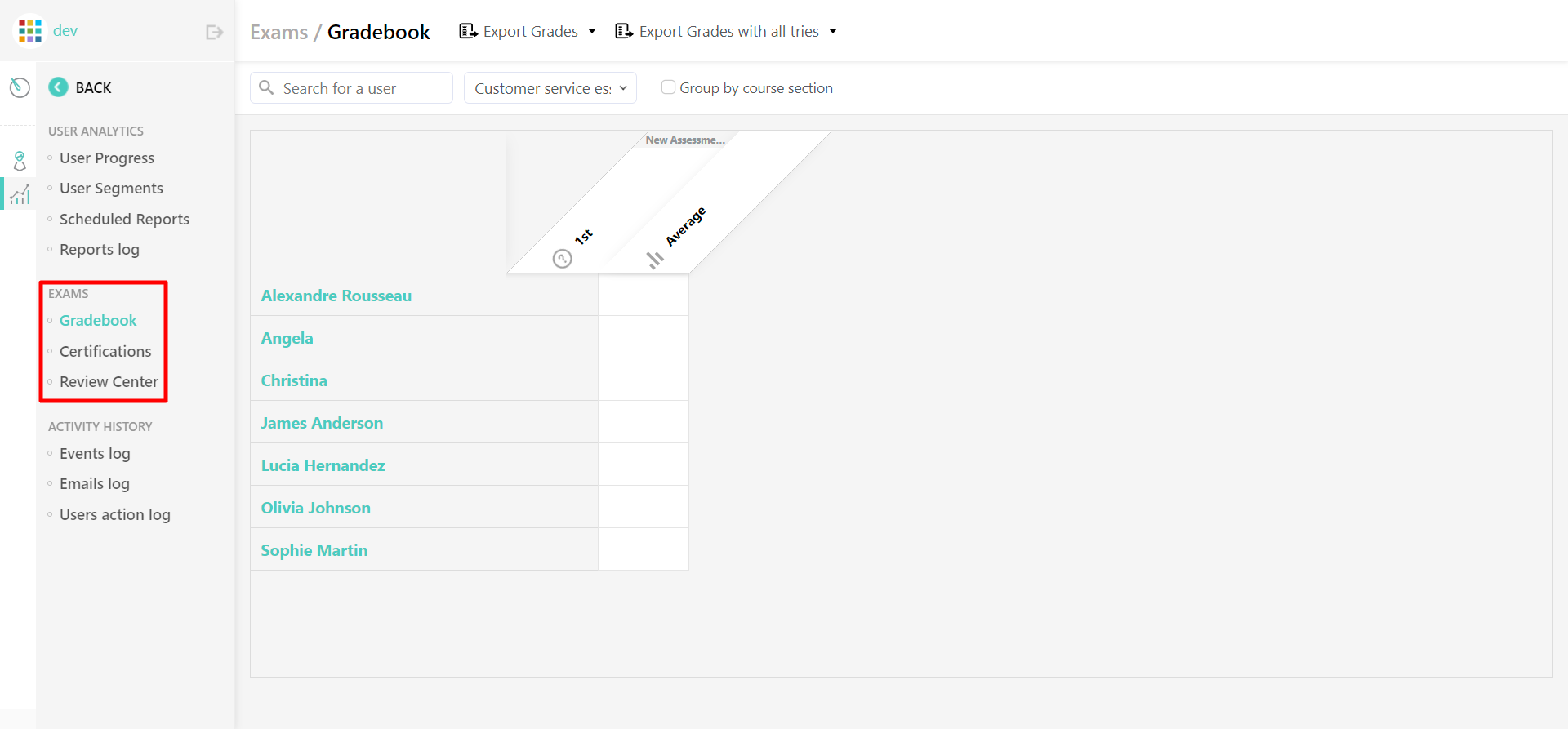 About the Activity History, as a manager, you have access to:
Events Log:

Gives real-time information about the school activity. A great tool to help you keep track of all the important events that take place regarding the seat users and offer better support to them.


Emails Log: A reporting tool to track at a glimpse the notification emails being sent automatically to the users upon a trigger e.g, course completion, course enrollment, seat enrollment, etc


User Activity Log: Where you can see a record of their Bulk actions and filter results according to the Bulk action type and the date that the action was performed.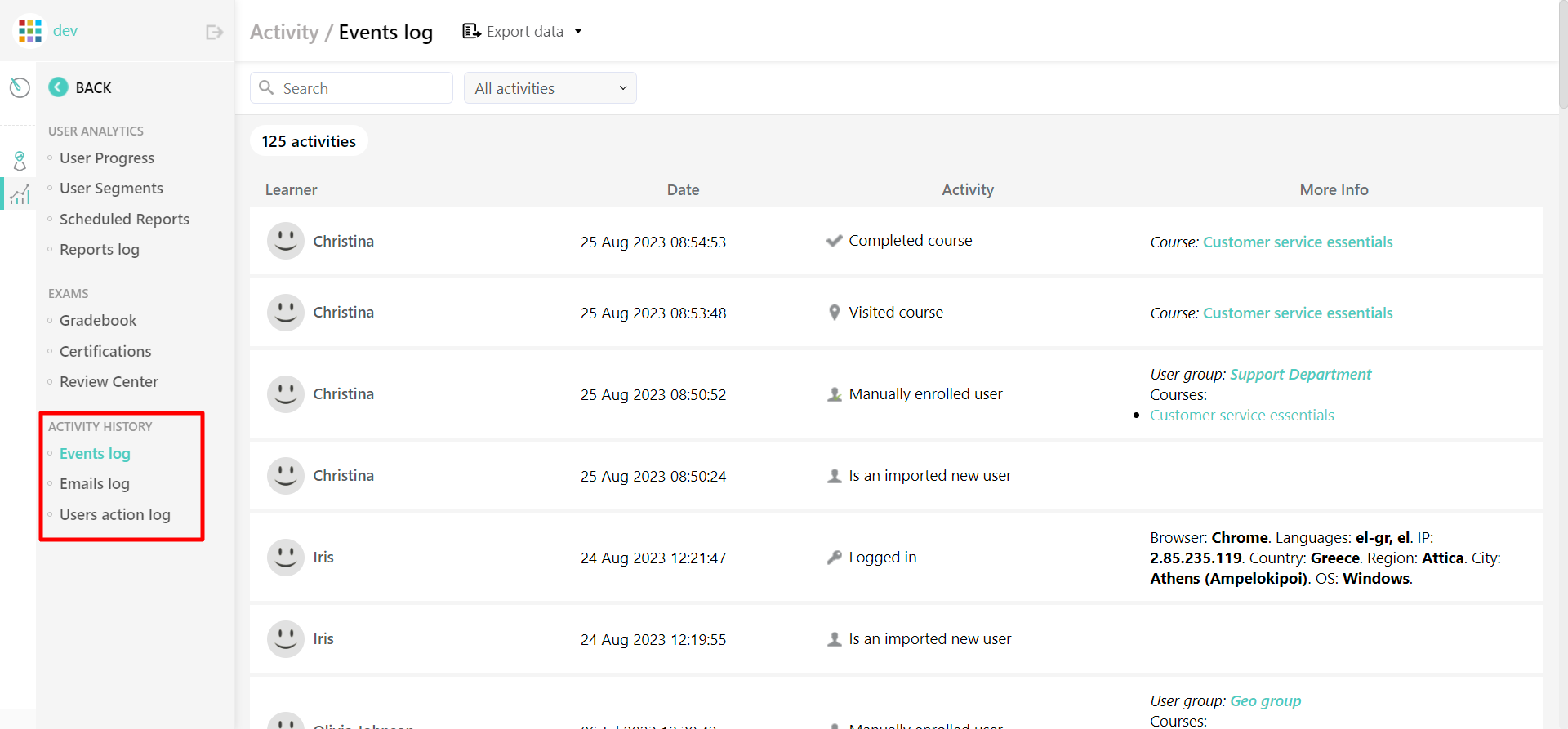 How do I create a new Learner Account?
Welcome! To Log in to CORE University you will have to
create a new account
. There are two ways to accomplish this: The first one is to simply connect with one of your social network accounts. It is the easiest way by far since you do not need to remember yet another password. To log in, simply click on the button corresponding to the social network you prefer to use and follow the process. You will be asked to confirm your email address, so make sure that you enter a valid email address.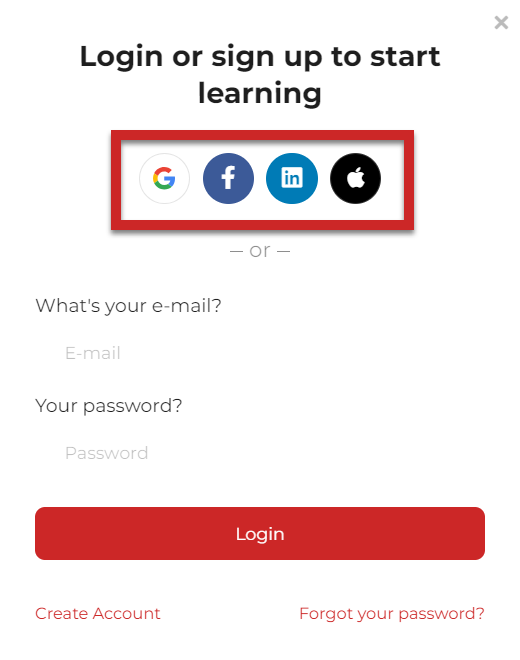 The second option for creating a new account is using your email. Click on the
Create Account link
that can be found in the login form.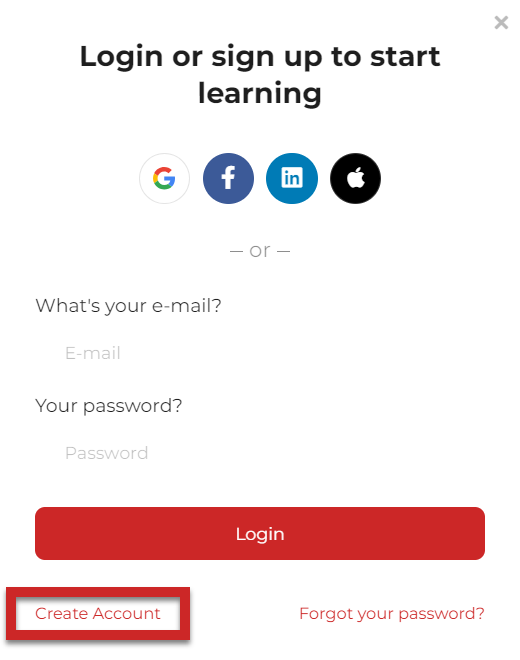 Fill out the simple registration form with your name, email and desired password and click on the Start your learning journey button.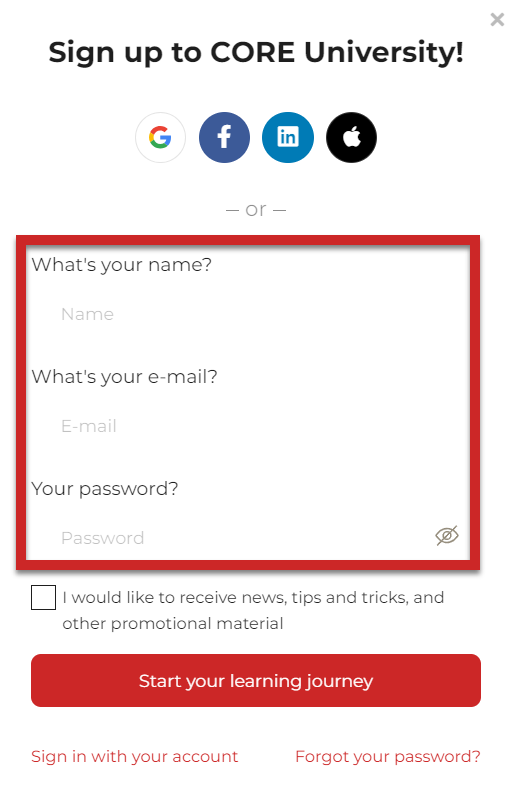 That is it, you may now access CORE University and browse through the available courses.
How to Log In to CORE University with an existing Account?
If you have used a social account (Facebook, Twitter, Linkedin, Google) to register to CORE University then all you need to do is click on the respective button in the Login form.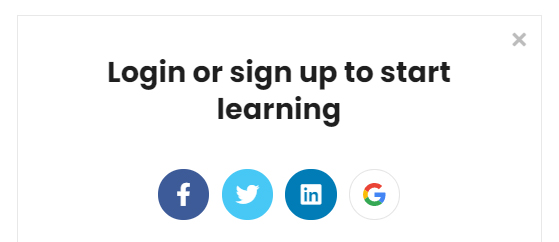 If you have used your email to register for CORE University then simply fill out your email and password in the login form and
click Login.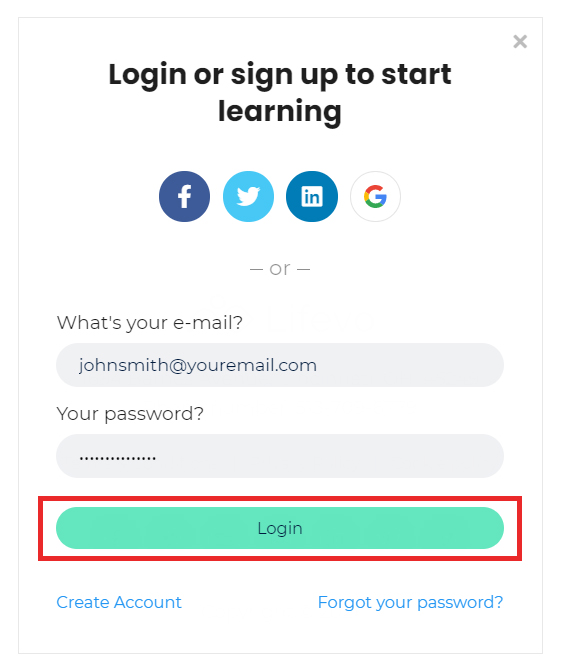 That is it, you can browse through our course catalog!
Problems Logging in to CORE University?
First, make sure that the combination of email and password you tried is correct (for security reasons our error message does not explicitly reference whether you made a mistake in your email or password. This is deliberately so to make it harder for malicious individuals to guess any account details).

If you are still having problems it might have forgotten your password. In this case you can simply ask for a new one to be sent out to you. Click on the Forgot your password? link located just below the Login button.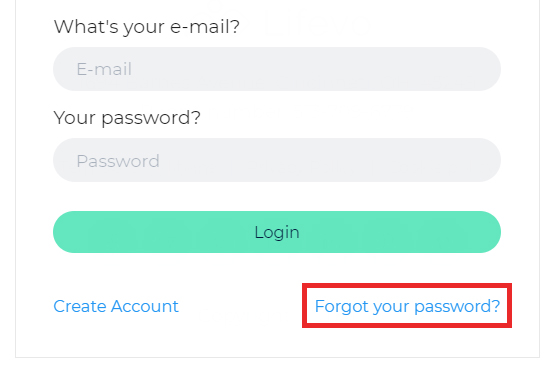 Type the email that corresponds to your account and click Send. An email will be sent to you with a link for setting up a new password for your account. If you do not see the email appearing in your Inbox, make sure to also check the spam folder as it may have been accidentally caught by your email's spam filter. If this is the case then make sure to identify this message as Not spam so that you do not lose any future correspondence from CORE University.
There are two kinds of courses the free ones and the ones you must purchase.
If the course you want to enroll in is free just click on Start for free button and you will have full access to the content. If the course you want to enroll in is not free, click on the Enroll button (the course's prices should be visible, right next to enroll) and follow the checkout process. When you finish the course, the contents will unlock for you.
How can I Edit / Insert my account details (Profile Picture, Biography, Locations etc)
When logged in to CORE University, click on the top bar Profile sub option after hovering your mouse over the "Me" tab option. This will lead you to your profile page.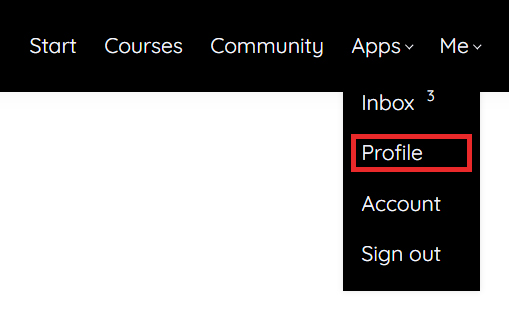 There, click on the edit button and start changing your personal info. You can update your name and email, add a short bio so other members of the community can learn more about you and add your social accounts so that others can contact you.

How can I change my password?
Changing the password can be done from CORE University's login form (you must be logged out). Go to the login form and click on the Forgot your password? button that can be located right under the Login button.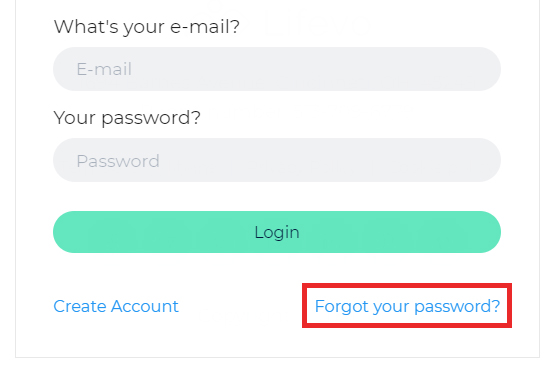 Insert the email of your account and click OK.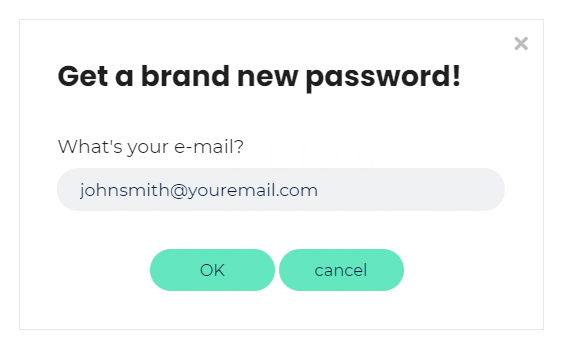 You will soon receive an email containing a link for resetting your password. If you do not receive this email after a few minutes, please check the spam folder of your email account as the reset email may have accidentally been held up by your spam filter.
How to send a private inbox message to another Learner?
Click on the top bar Inbox sub option after hovering your mouse over the Me tab option.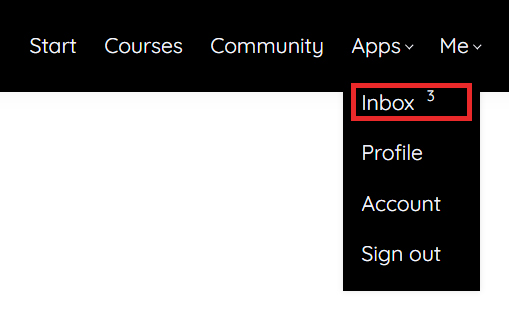 Then click on the New message button.

Select the co-learner you would like to send the message to (start typing @ and the name of the student. A list of suggested accounts will appear, and you can pick the right one). Then fill out your message and click the send button.

How do I exit from CORE University?
If you want to log out from CORE University, simply click the Sign out option that can be found at the top-right menu.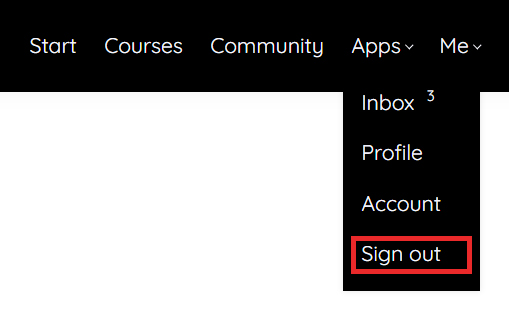 I purchased a course. How do I access it?
If you have already purchased a course, you only need to visit the course page and you will have full access to the content. Alternatively, you can access the starting page of CORE University. The courses you have purchased will appear at the top of the course list. By clicking on a course card, you will be directed to its contents.
How do I download course content?
If you are enrolled in a course (paid or not) you will have access to the whole course contents. In most cases the contents are not available for download, and you will need to be connected to the internet and access the contents through your browser. Certain material, like PDF files or PPT presentations may be available for download.
How do I navigate inside a course?
Once you access a course, you will find a full table of contents at the left-hand side of the screen. You can browse through the sections and access the learning unit you would like to study. In most cases you would be better off when simply following the linear course order proposed by the course instructor. In the future you can always come back and revisit any learning unit you wish. Note that learning units that you have visited / completed are marked with a discrete check mark.
Do I have to be online at a specific time to take a course?
No, you can take your course whenever you want. The course remains online around the clock. All you need is internet access and a modern browser.
Can I take more than one course at a time?
Yes. You can take as many courses as you wish.
What Browsers are Supported?
We support the latest versions of all well-known browsers. For optimal studying experience we recommend using Mozilla Firefox or Google Chrome.
Can I take the courses on my iPad or tablet?
Yes. CORE University is fully responsive in all kinds of electronic devices.
Can I take the courses on my iPhone or smartphone?
Yes. CORE University is fully responsive to all kinds of mobile devices. For optimal experience you can use the mobile version of Google Chrome, if your device supports it.
Is Internet Access Required?
Internet access is required since all the course contents are online. We also recommend using a broadband internet connection, especially when you must go through video content.
Just a broadband Internet connection and the latest version of your favorite browser.
What forms of payment do you accept?
All major credit cards are accepted.
How do I cancel a course?
For canceling a course enrollment or asking for a refund please contact CORE University (contact info can be found under the Account option on the top right menu)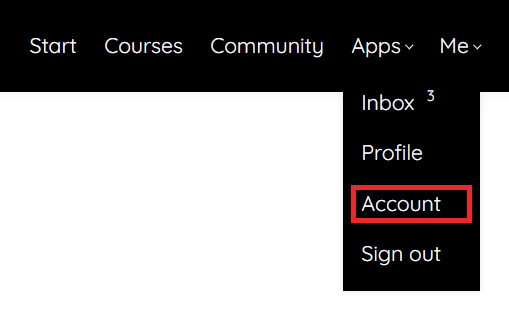 Troubleshoot issues with Video
Our video player automatically tries to adjust the video quality to your internet speed, giving you the highest quality possible but in certain cases, for slow connections, this might not be possible. If you are experiencing excessive buffering during playback, it is probably because your Internet connection cannot support continuous playback of the video. In this case try to reset your connection/internet router or, if possible, try accessing your online courses using a better internet connection.
You may also want to try one of the following:

1. Close extra browser tabs or other applications that may be using up your bandwidth.

2. Make sure you are using the latest version of your browser.
How long does it take to complete a course?
It depends on the course. Each course has different time requirements. Read the course's description or contact your instructor for more specific details.
What will you do with my email address?
Your email address is your key to CORE University. It is fully safe with us and we will use it only to communicate with you if necessary.
Does access to my paid courses expire?
In most cases, once you have enrolled in a course you will have access for life. Courses with limited time access say so clearly in the course description.
Can I sample a course or lesson before deciding to purchase a course?
In many cases courses have one or more free sections that you can sample before you decide to purchase a course.
How do I know that you have received my order?
Once your payment has been successfully processed, your course will be immediately accessible to you. If the course has not unlocked despite your payment going through, then please contact the site's owner and you will be given access to the course asap.
How soon will I get access to my courses?
You will get access to your course(s) immediately after you make an online purchase (or when you have been manually enrolled by the instructor).
Are there prerequisites for the courses or lessons?
In most cases there are no prerequisites and you can take any course you want independently. For certain courses that do have prerequisites, this will be clearly written in the course description. And you may also want to discuss this with the course instructor.
How do I access a course that I have completed?
You can access your courses anytime simply by logging in to the platform and visiting the course page. The courses you have purchased always appear first in CORE University's course catalog.
Where is the invoice for the course I just bought?
You can find fully detailed invoices for all the courses you have purchased on the Account page, which can be found by hovering your mouse over the 'Me' tab option.

If you made a purchase outside of CORE University then you can contact the organization / instructor for an invoice.